Headstock and Tailstock positioners generally handle the rotation of long work pieces around a horizontal centreline. The Headstock is generally powered and the Tailstock is free-wheeling with no other support under the work piece. Long complex structures can be turned to make the work execution easier for the welder. In some cases only a Headstock unit is required as shown in the pipespool fabrication arrangement depicted below.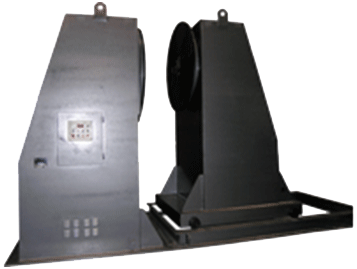 AMIN make Head and Tailstock Positioners can be used for a variety of parts and suitable for long objects. Typically a Head & Tailstock Welding Positioner is used for long rectangular shapes that must be supported from both ends. Both fixed height rotation centerline and power elevating models are available for ergonomic placement of the weldment. Head stock-Tail stock Positioners capacity ranges up to 100 Tons and various flexibility in job handling. Other versions of machines available with variable height adjustments (center height adjustment to cater larger job swing) and other control possibilities. With a large rotation speed range all welding processes can be accommodated, such as MIG, TIG, SAW welding.

Apart from standard configuration, advance versions are available including elevation of Head Stock- Tail stock and movement of tail stock over rail.
Welding Rotator

Rotators are probably the most useful and versatile of positioning equipment for a Fabrication shop.

Welding Positioner

Robust all steel fabrication. Variable or single speed table rotation through 360 degree
Event / News

We Participated in Mahatech Exhibition at Ahmedabad, INDIA.
Contact Us

AMIN MACHINERY PVT. LTD.
Phone No. : +91 - 2692 - 236029 / 235124
Fax No. : +91 - 2692 - 237443
E-Mail :